COVID-19: Protection by detection.
Simplify my Home, offer simple to use, high-technology solutions for maintaining the safety of your home
or business during the Covid-19 pandemic and beyond.
Combining the latest in temperature measuring camera technology with AI monitoring systems provides
a means of accurately monitoring the temperature of every person entering the building, identify
them using facial recognition and even detect whether they are wearing a mask. Linking this to new or
existing door entry systems provides the ability to grant or deny access in order to prevent the spread of
COVID-19 infection.
Temperature Measurement Solutions
A high temperature is a key sympton of COVID-19. We can supply and install highly-accurate
temperature measuring cameras to automatically measure the temperature of every person
entering your home or business premises.
Features:
Allows instant and accurate face temperature monitoring simultaneously and in a continuous flow.
Face temperature measurement – reduces false positive readings by only measuring the temperature of the face.
One-stop solution – systems can include cameras, NVR, NAV and AI Mask Detection to provide a comprehensive one-stop solution.
Mask Wearing Detection System
By combining these cameras with specialist AI software and NAV server, this system can look for faces and detect if a person is not wearing a mask.
If the system identifies a user that is not wearing a mask, an alert can be sent with the picture of the person. This allows the application to run automatically and helps to enforce the wearing of masks. If the face captured by the camera is recognized, a notification is sent to the system administrator.
Social Distancing
Technology can also play a part in monitoring and enforcing social distancing within a particular room or area. At Simplify my Home, we can provide systems to calculate the number of people in a designated zone and issue an alarm if the zone exceeds its maximum threshold.
Features of AI Mask Detection System
The monitor shows system video feed in real-time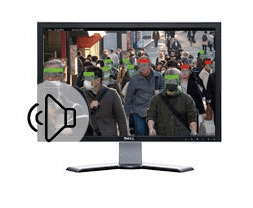 Alarm triggered via the digital output of an IP camera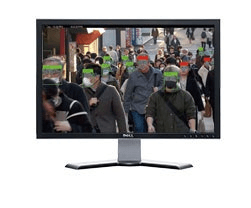 System provides an audible warning message
How does it work?
Detect no mask wearing for: Audio notification, Door automation, Alarm IO firing or Gate automation. Send alert to the people who are recognised. Also set the rate of sending the alerts and detection of faces.